I'm just now having time to update on our experience this past weekend. We have never stayed in a B&B before, so this was totally new for us. The house was here in the town where I work, so I didn't even have to go home Friday. We checked in about 5:30 and got a tour of the house. We were the only ones staying the weekend so we had the whole second floor to ourselves. The house was built in 1901 by a wealthy individual who started a company that is still in town today. It was a beautiful house that still is very sturdy considering how old it is. The couple running it have owned it for about two years. They were originally from Texas and came here on vacation and fell in love with the house. At breakfast on Saturday morning Don came in and talked to J and I for quite awhile. He was telling us all kinds of interesting stories about the house and other houses on this street. The street that this house is on is full of other Victorian homes. J and I got up early Saturday morning and took a walk so we could get a close up look at all the homes. Don is the kind of person that can tell stories very well, they weren't took long or short or so full of details that you lost track of what he was saying. He was very interesting. He and his wife were originally from Midland Texas, so he talked some about George Bush and politics. Luckily his and our views were the same. Another thing Don shared with us was that he had two adopted grandchildren. His daughter had adopted them through the foster care system. We told him that we were in the process of adoptiong and then he told us that his son is adopted. After breakfast I felt encouraged for the rest of the day. I can't really explain it, but I'm sure God led there this weekend. On Friday night we had gone to the Drive-In and saw Evan Almighty, which is a very good movie. At the beginning of the movie Evan kept seeing Gen 6:14 appearing in different places. On Saturday J said he felt like Evan, adoption keeps popping up.
Our room was called the Magnolia Room. It was the largest room and it had it's own large bathroom.
This window was right outside our door. It has a little window seat under it. Don told us that the previous owners had big heavy curtains over all the windows. When they came back to look at the house they asked Don if they had put that window in. They had no idea that window was even there because of the curtains. It was a beautiful window that didn't need to be covered up. It is still the original window from 1901.
This is the stairway looking down.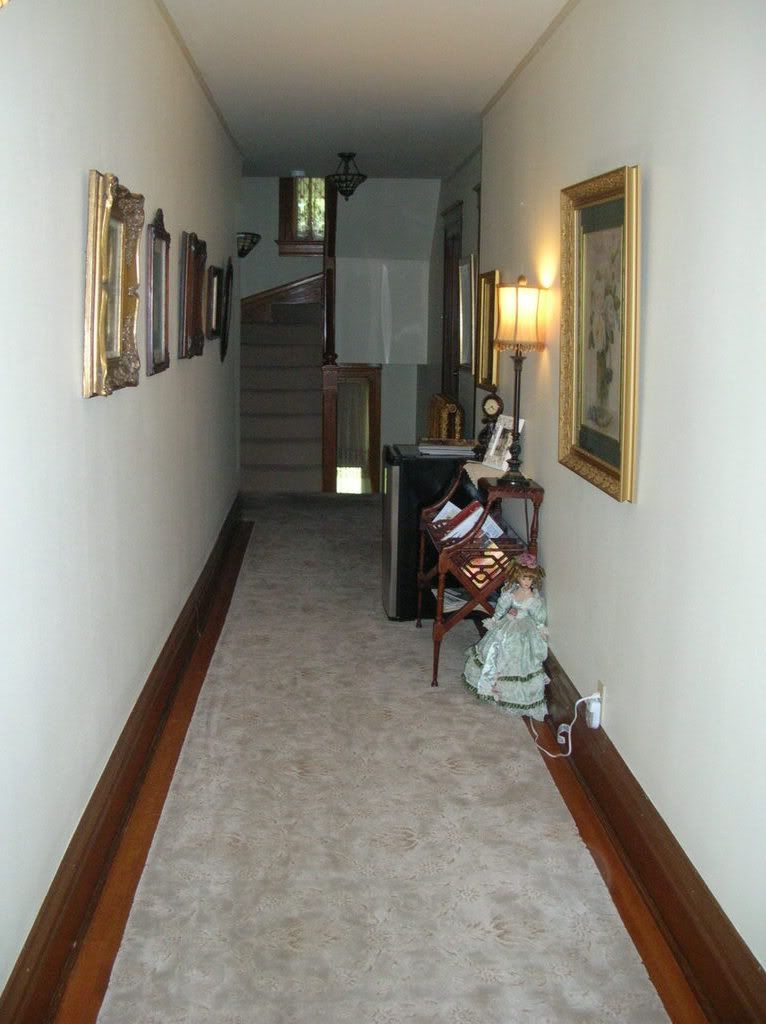 This is the hallway. You can see the stairs leading to the 3rd floor where Don and his wife live and there were steps going down to the kitchen. J did some exploring before we left Sunday and found an elevator in a back room across from these stariways.