We pulled into the school Sunday night about 10:30 p.m. We had left DC at 5:00 a.m. (4:00 a.m. our time) so we drove about 18 hours in one day. The drive home really wasn't too bad. Jay and I split it up a little more than we did on the way out there. I'm going to try and post each day about something that we did and post a few pictures to go along with it. I won't try to do it all at once because it would be a long post. I will go ahead and tell you about the drive home though. I don't think I will ever forget what happened to us when we first got started Sunday morning. Jay drove for a couple of hours and then he wanted to switch. At that time we were in the Maryland/Virginia area which was extremely hilly and curvy. The place where we stopped for breakfast was way down in the mountains and the exit ramp seemed to be straight down the hill. The brakes on the van weren't the best and it didn't feel like it was slowing down much. Instead of pumping them like I should have, I just pushed on them as hard as I could. Once we got to the bottom of the hill the kids started waking up and every one was commenting on the smell. Jay was expecting to see a big truck with the brakes burnt up, but instead when we got out of the van smoke was rolling from our front tires. Our first stop ended up being a little longer than we had planned so the brakes could cool off. I was so scared we were going to be stuck in those hills for another day. We made it just fine, but every time I think about all that smoke I laugh. About an hour East of St Louis we finally figured out how to get my iPod to play over the radio so I got to play DJ until Lebanon when my battery finally gave out. The kids probably think I'm weird after hearing the different range of music on my iPod, everything from Elvis singing Here Comes Santa Claus to Led Zeppelin. I was surprised though that one girl did know who Dr Hook was. The iPod helped make the last leg of the trip a little easier.
Saturday, Sunday & Monday
Saturday morning (July 14) we got on the road by 6:30 that morning with 7 kids plus C in the van. We drove across Illinois, Indiana and almost across Ohio that first day. We were only about 40 miles from the Ohio/West Virginia border Saturday night. We thought we were in good shape becase we just had to cross a little sliver of West Virginia and then we'd be in Pennsylvania. We got up early Sunday morning and headed out, thinking we'd be at the beach that afternoon. If anyone has ever drove across Pennsylvania you're probably laughing at us right now. It took
forever
to drive across that sate. It took a lot more time than we had anticipated. I think what made it so bad was the fact we were on the Pennsylvania Turnpike, which was a boring strecth of highway. They have those concrete things going down the median and on the right shoulder so it felt like you were wedged in there, especially if you're in a 15 passenger van. We reached New Jersey much later than we had anticipated so we eneded up staying there Sunday night. I'll have to post beach pictures later because they're on a different camera, but we could see the outline of New York from where we were at. Monday morning we drove into New York, which was an experience. I pretty much hated New York. It was dirty and stinky and the subway scared me with C. I was a little on edge the whole time because I was afraid we were going to lose him. We didn't take the stroller, so we ended up carrying him a lot. We parked at Port Authority and got on the subway there and went to Times Square and Rockefeller Center and saw where the Today show is aired. Then we got back on the Subway and rode to the Yankees Stadium and looked at it. Then we rode the subway to another spot there and saw FAO Schwarz. It was a really neat toy store. C designed his own Hot Wheels car. He also picked out a couple of other toys and then picked out a stuffed dog for Avery. After that we split into two groups. Lynn and Becky (Jared's parents) took one group to see 5th Avenue. Jay and Chi Chi (Austin's parents) took us and the girls to Chinatown. I don't know what I expected but it wasn't what I had expected. It was like walking down a midway at a fair. There were vendors selling anything you could want. We did buy some I (heart) NY t-shirts there (7 for $10) which was extremely cheap. We also ate some Chinese food there that was really good. After that we met back with the other group and rode the Staten Island Ferry and got a good look at the Statue of Liberty. When we got off the ferry we walked to Wall Street and then down to site of the World Trade Center. It had a fence around it so we didn't get a good look at it. One thing that I did think about the whole time we were in NY and DC was what it must have been like the day of September 11, 2001. We heard sirens several times while in both places and I just can't even begin to imagine what it was like that day. The streets down by the Trade Center are narrow and with the buildings being so tall you feel a little trapped. We've all seen the images of people trying to run away when the buildings stated to collapse, but it was a totally different experience to see where it happened. It was such a scary day for those of us seeing it happen on TV, but to have actually been there would've been terrifying because you didn't know where a safe place would be. It gave me a different view of that day and how terrifying it was for those living in NY and DC. After seeing the Trade Center we hopped back on the subway and headed out of town. We stayed that evening at Austin's Aunt and Uncle's house in Pennsylvania. Thank you to Jay and Chi Chi for taking us around NY that day. If it weren't for them we never would've gone. It's not a place I would go without a tour guide, but I'm glad we had the opportunity to experience it.
Times Square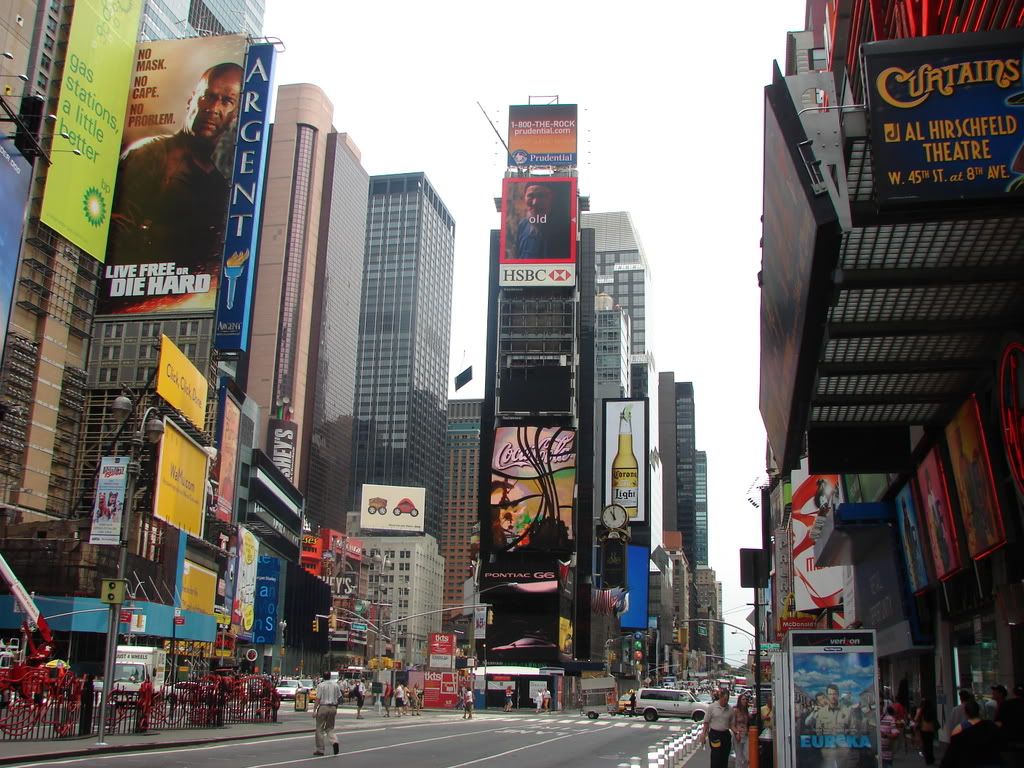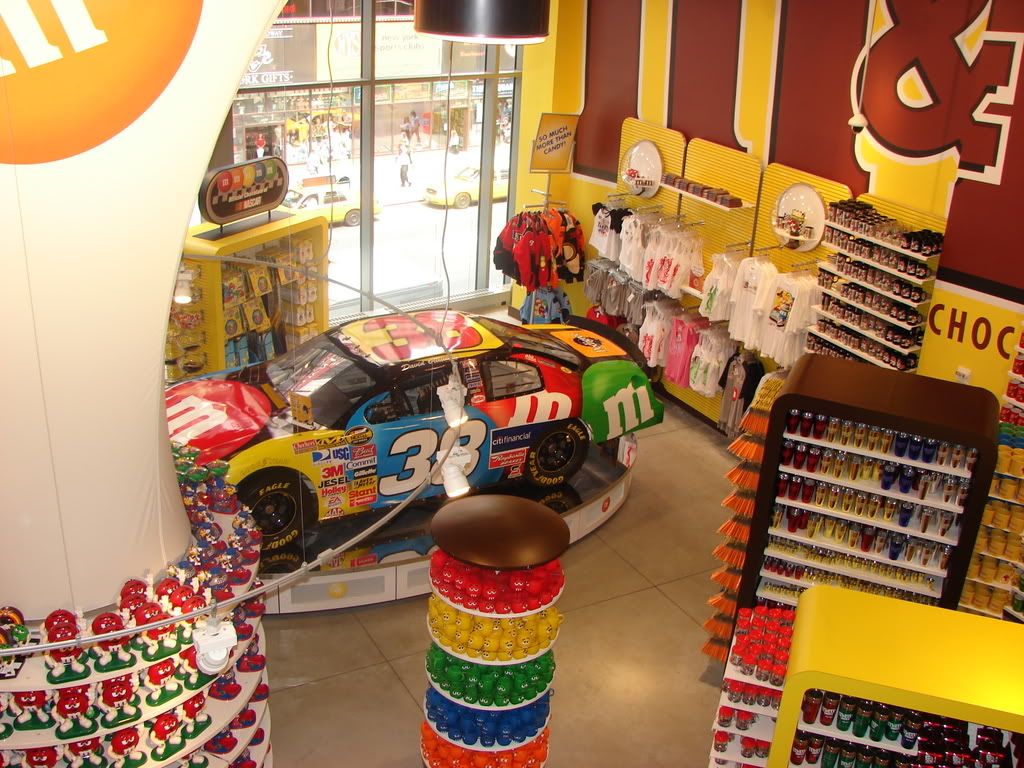 M&M's store in Times Square. They had every color of M&M you could imagine there
The group in front of where the Today show is aired
C designing his own Hot Wheel
Us in Chinatown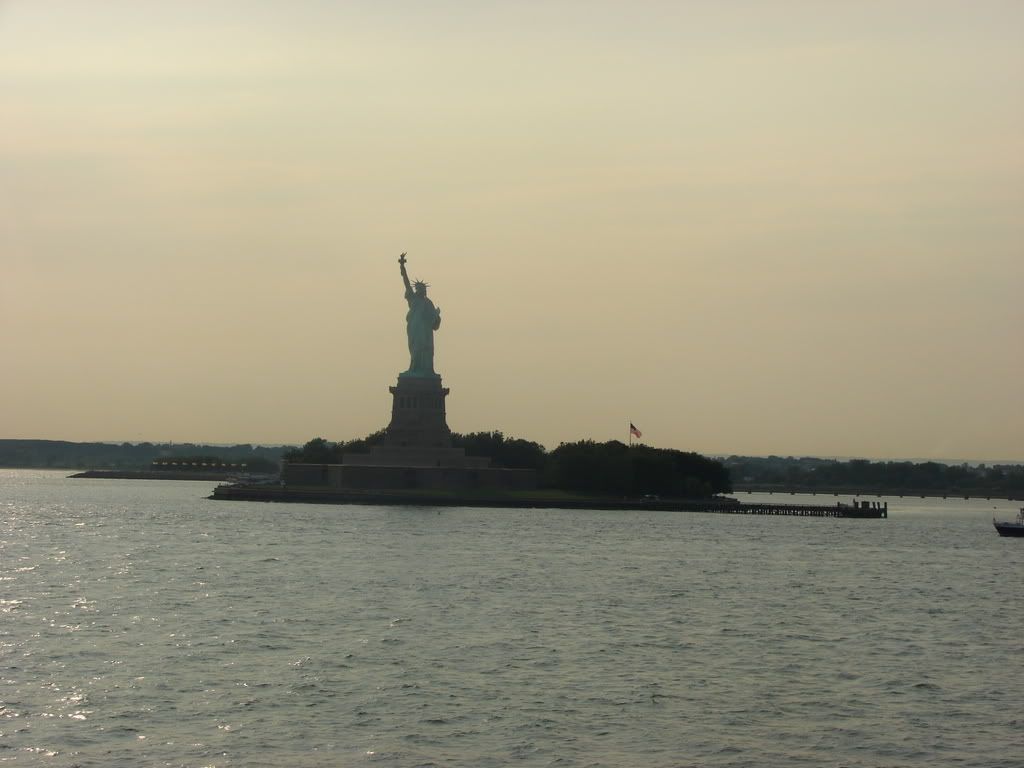 Pictures from the ferry ride
Wall Street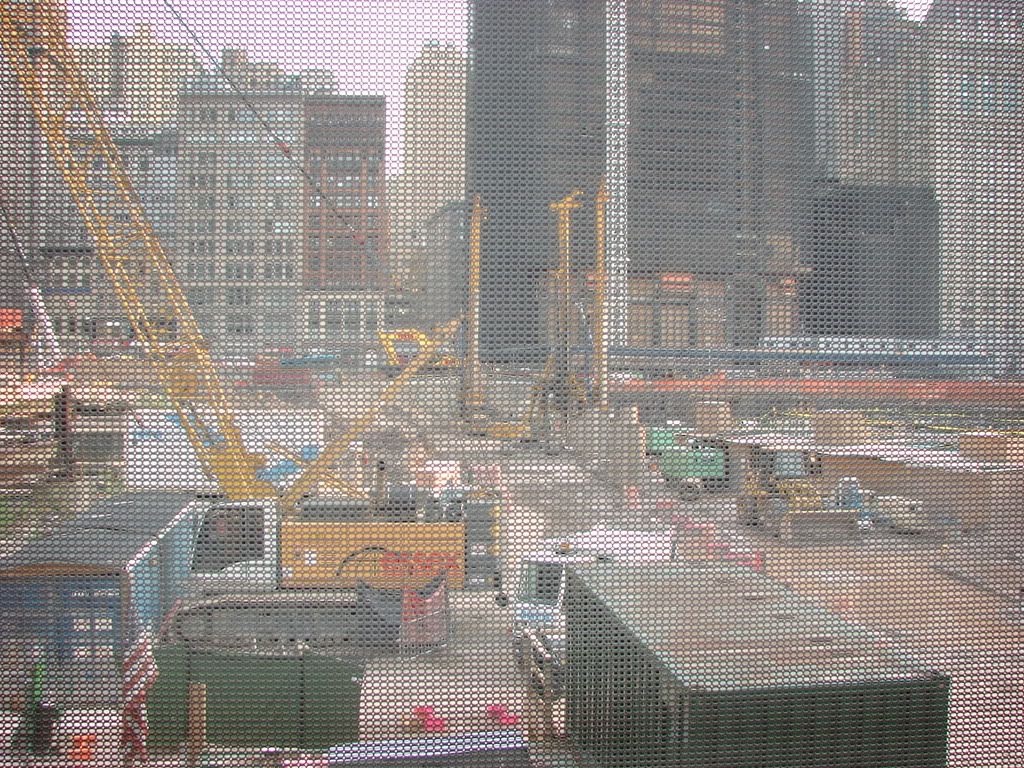 Trade Center