I had to work the day after Christmas so Jay and Cade went to Aurora early that afternoon. Jay hooked at the Wii so Cade and MeMo could play. Since MeMo had never played a Wii before she wasn't operating her controller up to Cade's standards. I think he got pretty frustrated, which made Jay and MeMo laugh, which made Cade madder and you can see where that cycle went. Jay called to tell me about it and I was a little jealous. I was stuck at work while the rest of the family was together having fun. That evening, after I got off work, we had Christmas with the Shepherd's. Here's where Cade opened up the ATTE. He also got a Marshmallow gun from Terry and Megan. If your wondering yes, we can't wait until they have kids. We've already got some good present ideas for them.

Trying to wait patiently while we went in a circle and opened 1 gift apiece all while mulling over the fact that this was his last chance to get the ATTE
The marshmallow shooter. One advantage to having a child considerably older than our niece and future nieces/nephews is that we won't have to fear retaliation. Oh, the possibilities are endless!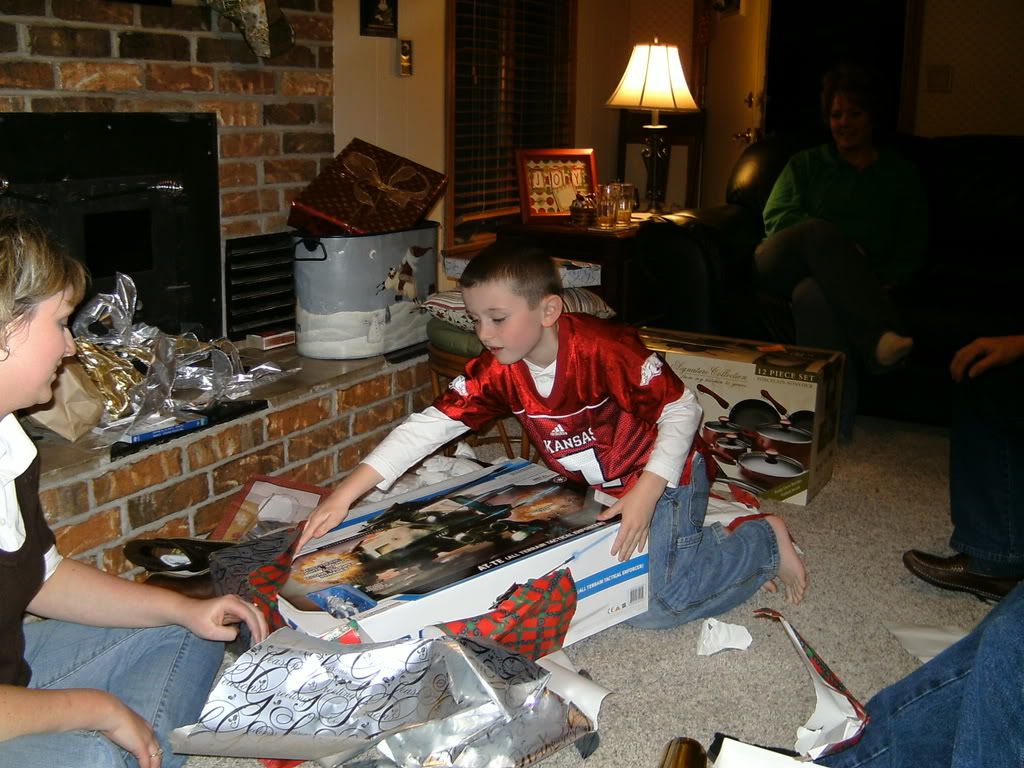 Finally the moment arrived. The ATTE that Cade told Santa (yes, he really did tell him) no one could afford (what kid worries about the price of a toy?) was finally his. I don't think the gift made Jay quite as happy. In fact I think he might have gotten a little teary when he opened it and saw all the tiny pieces that had to be put together. Yes, it's not Christmas until Cade receives a toy that makes Jay cry. Those of you who don't understand that you soon will. There's nothing more frustrating to a parent than your child losing their mind over a toy gun that's the size of a grain of rice that's been lost and he wants you to locate it right then.
On December 27th we headed to Fayetteville for one last Christmas with the Simmons' side. I didn't take my camera so there are no pictures from that day. We all had a good day. Jay's cousin Craig, who he hadn't seen in several years, was there with his family. We enjoyed being able to meet them for the first time. We left there about 5:30 that night and I will admit that I was ready to head home. We had a great three days, but we were tired. Judging by the way Cade passed out and then proceeded to snore the whole way home, I'd say his Christmas was a memorable one.