The closet is officially done. It's been built. It's been painted. It's been filled to the brim again. In the midst of putting everything back I was only told twice that I wasn't using my nice voice. That's probably a record for me when Jay and I work on something together. I tend to get a little bossy......I know that's a shock to some of you.
On Monday morning Jay and I woke up and felt physically ill because of the condition of our room which then made the rest of the house not look so swell. The laundry had piled up because 1. we had a very busy weekend 2. why bother? there was no where to put the clean stuff. We decided a sick day was in order to get everything done. I informed one of my co-workers that I would be taking off on Wednesday. I figured that my house was making me sick and due to a difference of opinion between me and two of my co-workers I was sick of looking at them so that qualified to use sick time. We worked from 8:00 a.m. to 2:00 p.m. on our closet. We'd did some serious clean out. I try to go through it periodically, but this was the first time in a long time we took everything out and thought about it before we put it back.
Those two sweatshirts that I wore when I painted the house that I held on to because you never know when you might want to paint in cold weather again - they're gone. Those jeans I bought in 2002 that I'm going to get back in to but even if I could ever fit back into them they'll be out of style - they're also gone. Jay's 15 button down shirts with the stains on them that should also be celebrating their 9th anniversary this year that he might wear to school in the summer when he's working - they're outta there. Jay's good button down tie wearing shirts that he's had for years that have the stains on them and the khaki pants with the belt loop torn off that I don't remember about until I'm 3/4 of the way done ironing them - bye bye.
Between the give away clothes, the throw away clothes and just trash in general - we purged 12 sacks of nothing but crap out of the closet. It feels great. On Wednesday we kept walking in to the closet just to admire the beauty of it. It's great. Thank you Jay!!!!
This is one of the shelves he built. All of this stuff, minus the shoes, had been on one of the wire racks. No wonder the shelf pulled away from the wall. There had to be a couple of hundred pounds hanging on it.
Another favorite of mine - hooks for my jewelry. I had several necklaces that I never wore. Some were hidden in a drawer and I forgot about them. Others were shoved in my jewlery basket and got in a knot the size of a baseball
The crowning glory of the whole thing......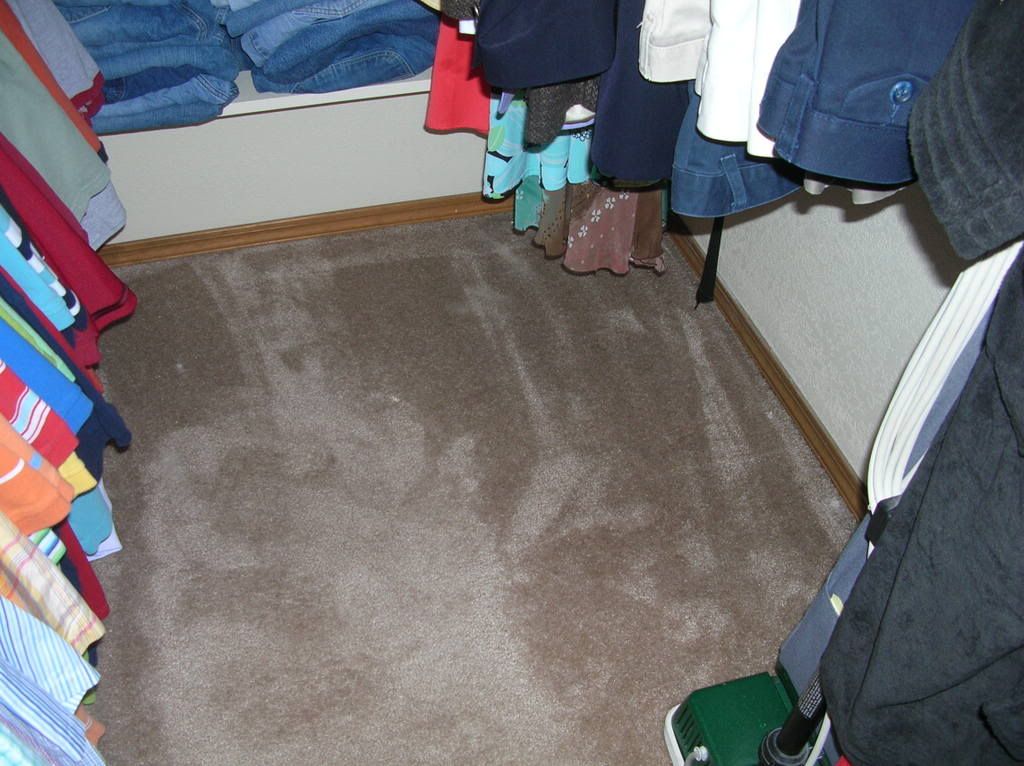 An empty floor. No shoes hidding under dresses and pants along with the ironing board, vaccuum cleaner, boot box, ties that fell down, etc. Just bare, empty space....and beautiful visible carpet