I haven't posted much lately. I've started several, but didn't ever get them to the point of where I wanted to post them so here's a rundown of what's been going on with us.
Charlie & Sadie
- Seem to be pretty good friends. Charlie is making great strides towards actually staying in our yard. Last Saturday Jay and I were outside so we let Charlie loose. He'd visit the other two houses on our lane for about 5 minutes and then he'd come back. Jay and I were very encouraged by his behavior until we heard the neighbor across the lane yelling at him. Our new neighbors appear to be nice but I'm getting the feeling we're one dog crap in the yard away from a disaster. I wanted to tell him "buddy, you have no idea how much better Charlie is now". I think getting Sadie was a step in the right direction for Charlie's Behavior Modification Plan.
Our New Internet
- Part of the reason why I haven't updated the blog. It's been broken more than it's been on. I think right now we're going for a record - 72 hours of still functioning. Maybe, just maybe we'll make it to 96 hours.
Our Roof
- Our wonderful roofers left one little bitty hole in the roof. Cade's room now sports some damage from Hurricane Ike. We got some pretty torrential rains because of Ike and all of that water ended up in one spot on Cade's ceiling. Jay spotted the damage the next day (Sunday the 14th) but didn't tell me because he knew I'd loose my mind. I was at a baby shower so he was able to call the roofer to get the roof fixed. When I got home it looked like this....

When we put Cade to bed imagine our surprise when it looked like this.....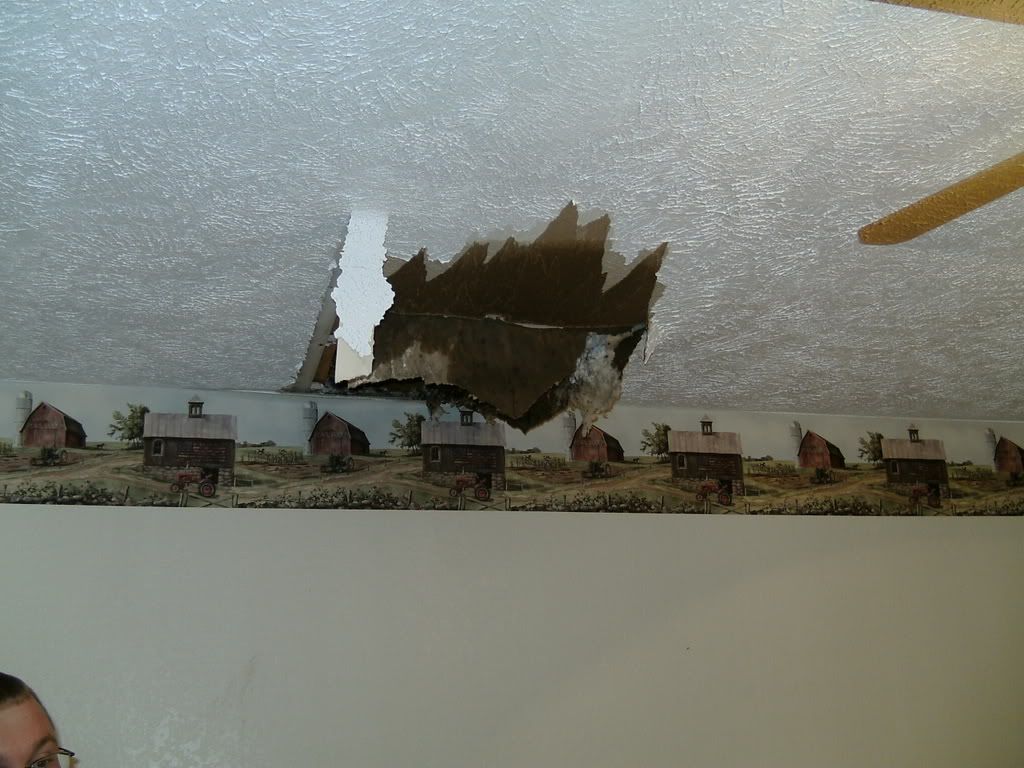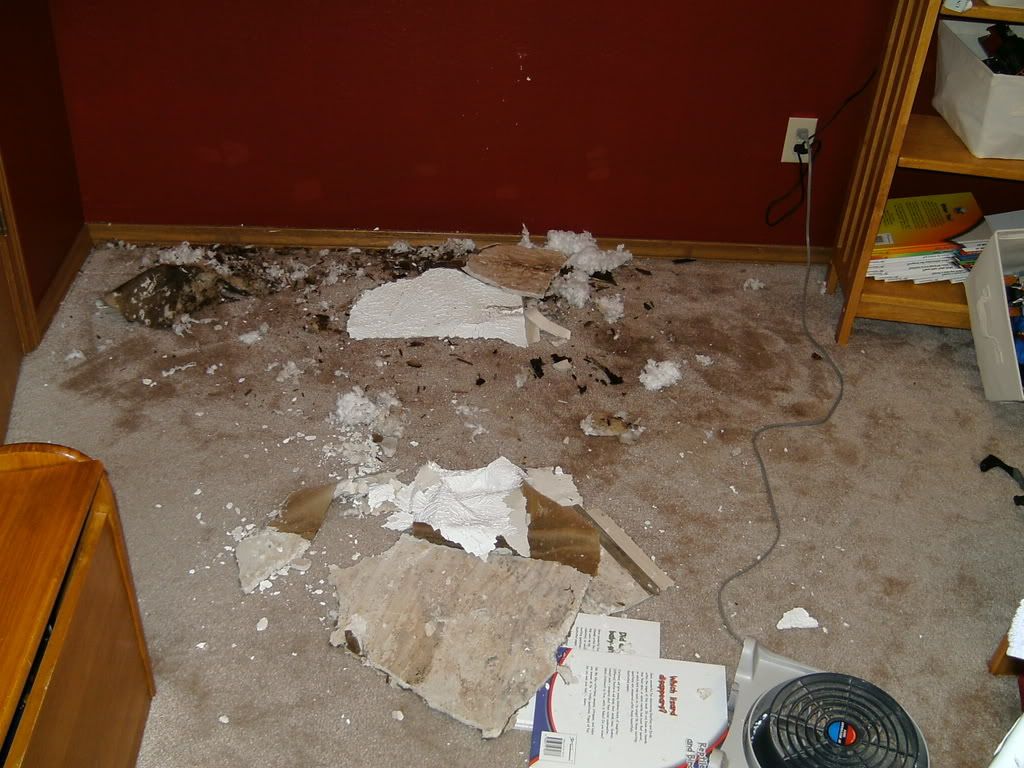 We asked Cade how long his room had looked like that and he said "Mommy, I tried to tell you but you wouldn't listen". I remembered coming home and being physically/emotionally drained so I laid down. Cade came out and told me he had a hole in his ceiling that I needed to look at. I told him that I'd already seen it. Apparently he was talking about the big hole, not the original hole. Our roofer has patched the ceiling, but we're still waiting on him to finish the job (surprise surprise).

Cade and School - We've had our same typical problems this year - Cade and anxiety. He is stressing about it again. His teacher has a new theory, which could be very valid. Since Cade is an only child and spent 4 years as an only granchild on my side and still is the only on Jay's he hasn't experienced competition. He doesn't understand that people work at different paces so he can't handle it when someone finishes before he does. And face it - every move Cade has ever made has been watched by many many eyes. I think he's trying to settle into the real world so it may take some time. I hope it happens quickly because I don't think I can handle the "I don't want to go to school" routine for the next 11.5 years.

My Job - We've been hearing rumors for two years about some restructuring that is going to happen. I think we are getting to the point where we may know something around the end of the year. You might keep this in your prayers because I could be faced with some decisions shortly and I'm going to need some very clear direction on what I should do.

Football - I think we're up to 3 touchdowns for the season??? They are looking better but we're still getting beat badly every game. Here's a name to put in your memory bank for the next 10 years. Mt Vernon has a kid who's first name is Rilley. He's in the 2nd grade and his calf muscles are more defined than a lot of adults that I know. If he continues along this route he'll be playing college ball someday. My thought on football is that I that I'm read to get the season over with. I'm not finding this to be quite as exciting as baseball for some reason.

Our Adoption - For starters we've been anticipating a phone call for our homestudy update since the middle of August. She finally called this past Tuesday so we'll have a visit next Wednesday. We weren't getting impatient, but I was ready to get that monkey off my back. It's like this big project that you need to get finished and you can't. This year's review isn't bad, next years will be a pain. We really hope we get a placement before we have to go through this a third time.
My emotions have still been all over the place because of the adoption. The end of June we had gotten a notice from the agency about a potential situation where they ask all of the families if they want to be shown or not. We of course agreed and for some reason I had a really good feeling about this one. It's my own fault for getting myself built up but I kept thinking this one could be it. Obviously I need to ignore my internal feelings because they are never right. We got our third quarter updates from the agency today and that couple has picked a family. Since our phone isn't ringing it's safe to assume it wasn't us. Honestly, we are both pretty disappointed about it. I keep trying to repeat over and over that God is in control, he knows what we need, etc but that is getting harder and harder. Then a few hours later I got another e-mail from our caseworker talking about the plans for her maternity leave. Yeah, that was also a little hard to take. It will be a year this month and we are getting weary.

Our Weekend - Tonight we are going to a HS football game. We are 5-0 and tonight's game is supposed to be our biggest competition. We've already beat a team who previously beat this team so it could be exciting. Tomorrow Jay has a Razorback game and Cade and I are going to a jewelry party in the morning. Yes, Cade will be totally thrilled, so thrilled that I haven't even told him. Then tomorrow evening Cade has another football game....just thinking about it makes my rear end ache.