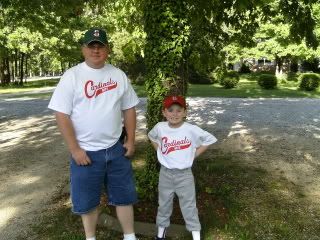 Things have been a little crazy around our house the last week. I've wanted to get these pictures on the blog, but haven't had a chance until today to get them from the camera onto the computer. Baseball started Monday night. It didn't go so well. Jay was really disgusted by the teams showing that night - the other Miller team had 6 kids who could catch the ball and throw the runners out. We had one kid (Benjamin) singing about poop in the outfield and another digging his way to China in the dirt by 3rd base. I'm really hoping tonight goes better. Here's a picture of the two baseball boys from Monday night.
Another thing causing some excitement around the house this week was something
Cade
won at school. Yes,
Cade
is now in
possession
of a 5lb Hershey Bar. It doesn't even fit on the shelf in our refrigerator.
Cade
was so proud of it on Monday. Jay brought him by the office after school so everyone could ooh and
ahh
over it. Really, it is quite impressive. No one at
FCS
had ever seen anything like it.
On Tuesday he couldn't stand it anymore and we opened it. I chiseled off two tiny squares and I don't think he's thought about it since then. What in the world are we going to do with 5 lbs of chocolate?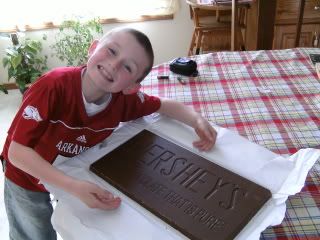 The other bit of excitement is that
Cade
got strep throat again. We have an appointment with an
ENT
on June 12. I'm pretty sure we'll be looking at
tonsillectomy
before school starts again. We haven't told
Cade
that yet because any time you bring up tonsils he gets worked up. Considering this will be his 3rd surgery you'd think he'd be a pro at it by now. I'll keep you posted on how that goes.