C has become obsessed with the Civil War. I'm sure I've posted about that previously, but I have to mention it again. His obsession is definitely a trait that he gets from my side of the family. Once my family gets started on something, they can't seem to quit. I don't know how many hobbies & activities my family has gotten obsessed with over the years, like dad's BBQ and mom's stamping. C is just another one in a long line of obsessors.
This past weekend we went with Jim and Sharon to the Civil War battlefield near our home. They were having a Ghost Walk that evening. We loaded up on shuttle buses and drove to a spot, watched a reenactment, walked to another spot and watched another one and then loaded back up on the bus. They drove us to another spot and we watched three more scenes before we got back on the bus and headed back to the visitors center. I think we were all a little disappointed because none of the scenes involved shooting. The first scene was the man who had owned the land that the fighting occurred on complain to a Confederate General that his men were stealing his stuff. The second scene was of two women spies reporting to the Confederates what they had seen. The third was of a group of Union POW's, the fourth was of a surgeon and the last one was of a Confederate burial. Even though there wasn't any fighting it still was neat.
It was dark and the trail was lit with lanterns. We were supposed to be quiet as we walked along the trail so it would set the mood. I was afraid C would have a problem with that, because in the truck that evening he had talked non-stop about the war. His new favorite line is "Did you know...." He also kept calling the Confederates the Confedery. There was a large church group that had taken up several of the tickets before, during and after our tour. They were the ones who had a problem with the no talking request. I know it's terrible to talk about other church members, but I had to control myself to keep from asking if they understood what no talking means. There was one women who seemed to be physically unable to be quiet. I had to try and get away from her while we were walking because she got on my nerves. C on the other hand was great. He was in awe of everything going on so stayed really quiet. I was proud of him, especially since he's only five. The 30+ year old woman could've learned a thing or two from C that night.
Sharon bought C another set of plastic Civil War toys from the gift shop. Mom had bought him some earlier but somehow we lost those. That's strange because C has his toys inventoried and knows when one little bitty gun is missing from his army toys. He had the toys on our family room floor all day Sunday and I stepped on one and broke it. I thought the world was going to end right then, he was so distraught. He also got a pin of two swords crossing to put on his Union hat. He was so excited about it.
Last night J had a football game and I stopped by to pick up C and he was wearing his Civil War hat at the football game. I wonder what people think about him when they see him with that thing on. Kinda like in DC when he kept wearing his three cornered hat, even though we weren't at Mt Vernon anymore. When we got home he said that he let Nielson wear his hat. Of course I cringed, I don't know how many times I've given him the don't share hats lecture (I'm so afraid of lice). I knew that C had been by Nielson's mom so I asked what she said. She told Nielson not to put it on, but C assured her it was ok so Nielson wore it for a little bit. Great, if Nielson ends up with lice they'll think it came from us. What a way to start out kindergarten, we'll always be labeled as the "lice carriers" in their eyes. Since the lecture didn't seem to be working anymore I had to resort to the scare tactic. I hate to do that, but sometimes it's the only way I can get through. I explained to him that he could get lice and that they were little bugs that itch and we might have to shave off all his hair if he gets them. I think maybe he finally understood, he doesn't want to be bald so maybe he'll finally quit letting other kids wear his hat. Not that I can totally protect him from everything...J's rash is not getting any better and this morning C had it on his ankle. At this point maybe lice wouldn't be that bad. At least we'd know what it was instead and could take care of it. Unlike this unidentifiable rash.
C finally got tired of me stepping on his toys so he moved his battlefield....to our bedroom.
The Graycoats as he likes to call them otherwise known as the "Confedery" have drawn their lines on my footboard.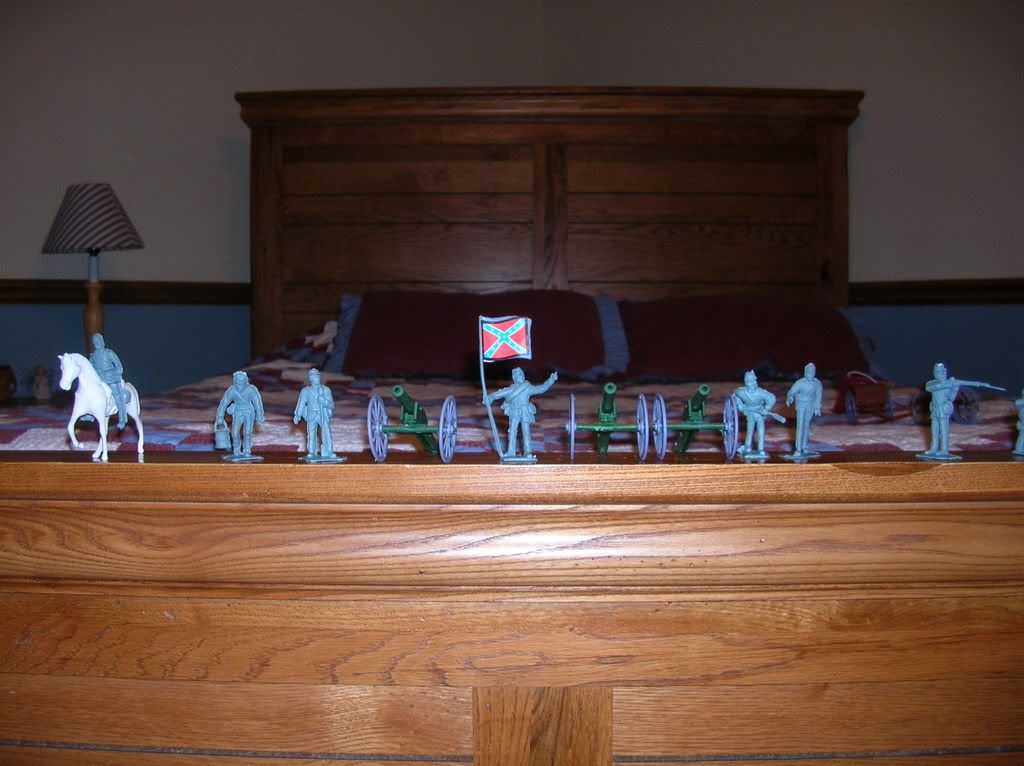 The Bluecoats, which to C are the good guys, are stationed on my dresser.