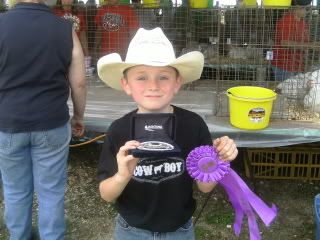 Our other big news from last weekend was the County Fair. Cade's (or Jay's) chickens won Grand Champion. Cade was so proud. He won a big purple ribbon, a belt buckle and $5. After he got his ribbon a couple of people from Miller besides me stopped to take his picture. Afterwards Cade said he would stand by his chickens for awhile in case any one else wanted to take his picture.
Avery also spent the weekend with us. She was really good throughout the whole fair. I was a little unsure of how the weekend would go because Cade at that age at a fair would've been a nightmare. Avery stayed right by me the whole time. The only issue of the weekend occurred about 5 minutes after she got to our house. She needed a baby doll. I'm now the proud owner of a Cabbage Patch Kid because Aunt Crystal wasn't going to let her go without a baby doll. I will admit that picking out the doll gave me a little thrill that I don't get when I buy Transformers and Hot Wheels.
Catching the chickens to weigh them Friday night
Getting in the final weigh in. Cade showed 3 chickens and their combined weight was 26.35 pounds. The average weight of Jim and Sharon's 6 week old chickens is 4 pounds.