So Terry and Megan's wedding was the past weekend. We left for the Lake on Thursday, with a stop at Cade's eye doctor. We got checked into our hotel somewhere around 6:30 pm. We checked out Sunday a little before 11:00 am. We had a great time, but we were so ready to get home. Saying Cade was pretty wound up, would be putting it mildly. He was nuts, not only was he staying in a hometel (his word for hotel) but he was also surrounded by family that he doesn't see very often - John and Mary from Texas, Meagan and CJ from Virginia, Nana, Granddad and Mary from Arkansas, Steve, LeeAnn, Lauren and Kim from Illinois plus the locals - Memo, Papa Jim, Grandma Robyn, Aunt Charity and Avery. He was in a 6 years olds version of heaven. On Friday night after rehearsal, while we started decorating, he went back to the hometel with Lauren and Kim. They are Jay's 19 and 17 year old first cousins. They had a ball talking about movies and things. They even gave him the nickname Goldfish. I'm not sure what the story behind the nickname was, but Cade was proud of it.
The wedding turned out beautiful. Everyone seemed to get along and things went pretty smoothly. Megan's parents and family are very nice. I think the two families will get along well over the years. I didn't get too many pictures taken during all the festivities because I ended up being pretty busy until the reception. Being the sister-in-law who has a tendency to be uptight and nervous when it comes to time, schedules, organizing, etc I thought it would be best to be seen and not heard. I had planned on staying in the shadows and keeping my mouth shut! So that didn't happen. But I enjoyed everything that I got to do to help with the wedding and I was glad to do it. Thanks to Megan and Terry for letting us help with your special day!

No matter what worked or what didn't work at the wedding – Terry and Megan are now husband and wife. We are praying that God will bless their marriage for many, many years to come. Congratulations!!!!!

So now for the pictures…I was so mad at myself yesterday when I realized I didn't have one of the three of us dressed up. We did have a professional one taken but I wanted a non-professional one for Christmas cards. I'll post a professional one once we get them back.

The Bride and Groom. One of the things that didn't work that day were the original candles that were supposed to be in front of Megan and Terry. The original ones got broke during the deocrating process that morning. Sharon and I went and picked out new candles since a certain someone was responsible for the breakage. Jay admitted to being the one who broke them during his toast. He also confessed that our wedding gift fell out of the truck, which I didn't know about. I guess Megan and Terry will see how sturdy Fiesta dishes are when they open our gift.

The Cake Table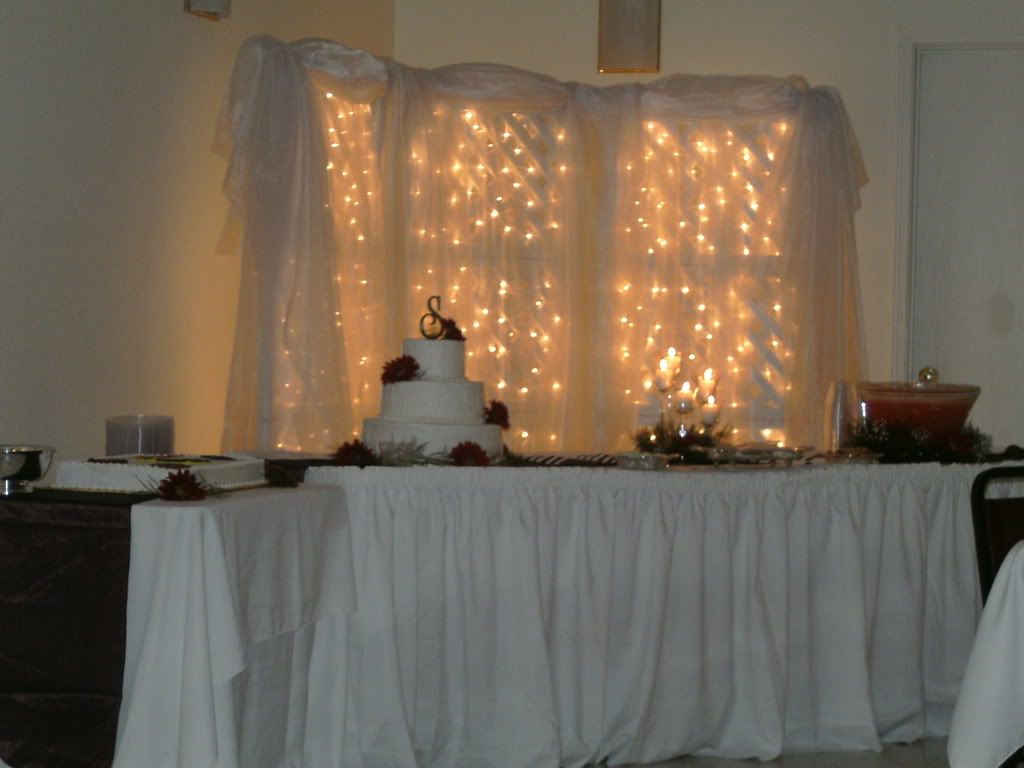 Cade and some woman who grabbed him and started dancing. She must be from Megan's side…..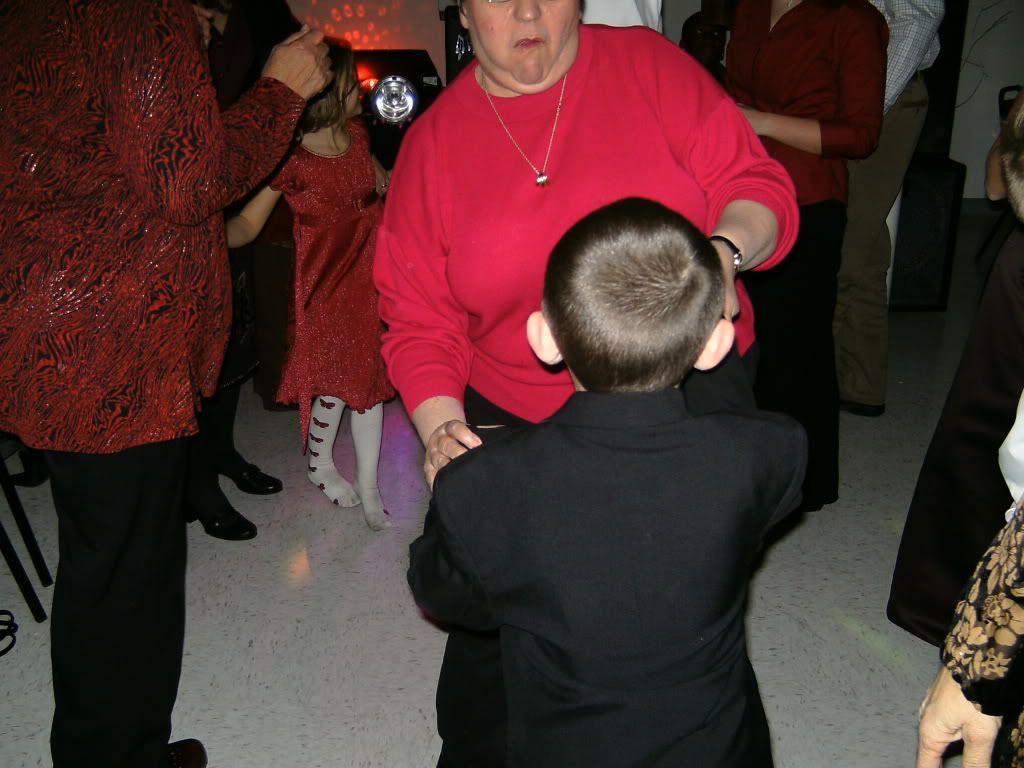 Cade dancing some more. I think he was doing the swim with LeeAnn and her girls. There's a hint of LeeAnn's outfit on the right side of this picture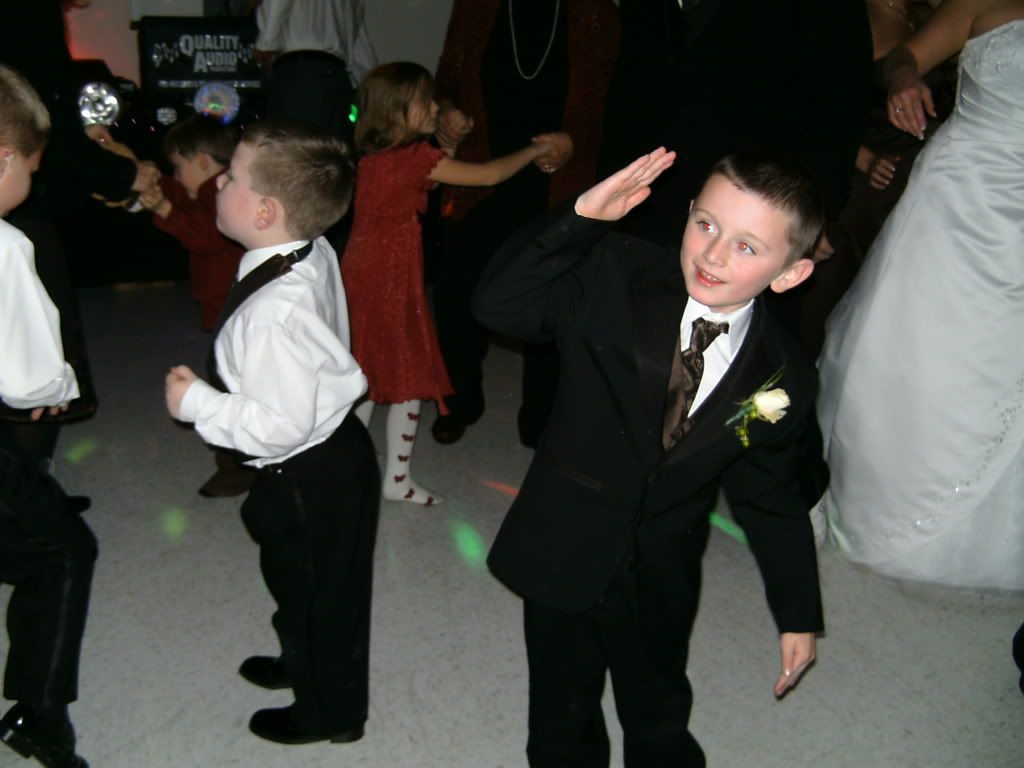 Cade and two of the bridesmaids. He seemed to be a hit with the women on the dance floor.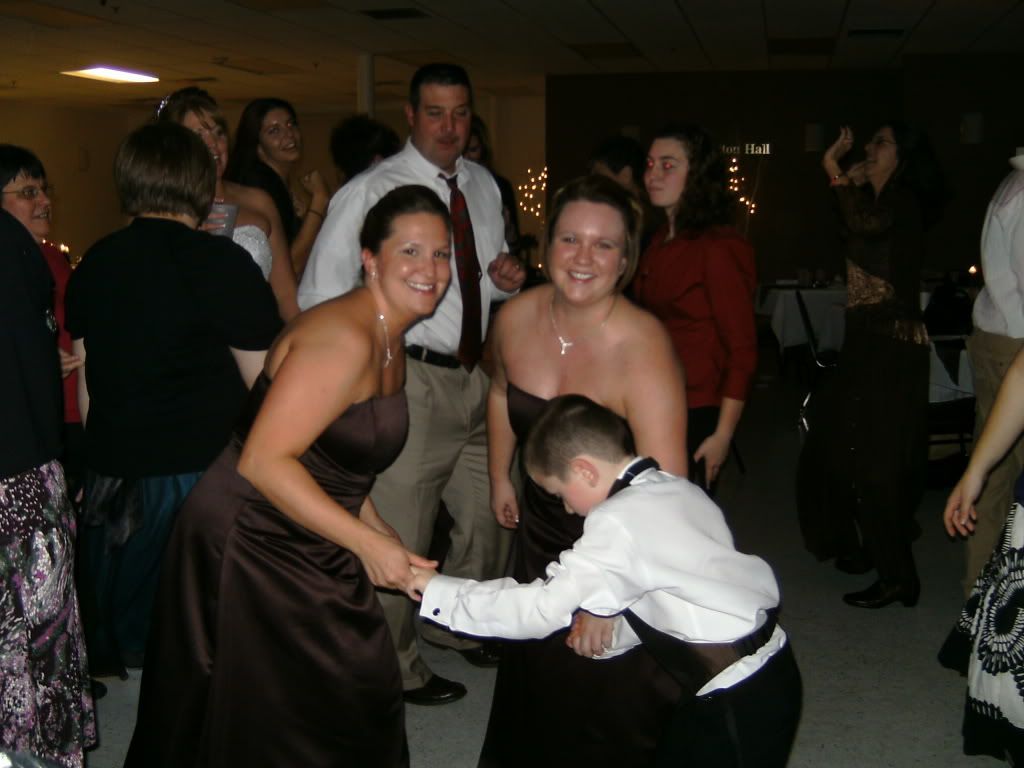 The car that Jay was so proud of. I'm going to have to ask Megan about that lady….she and Cade seemed to be very good friends. She's in so many of my pictures I need to write her name down.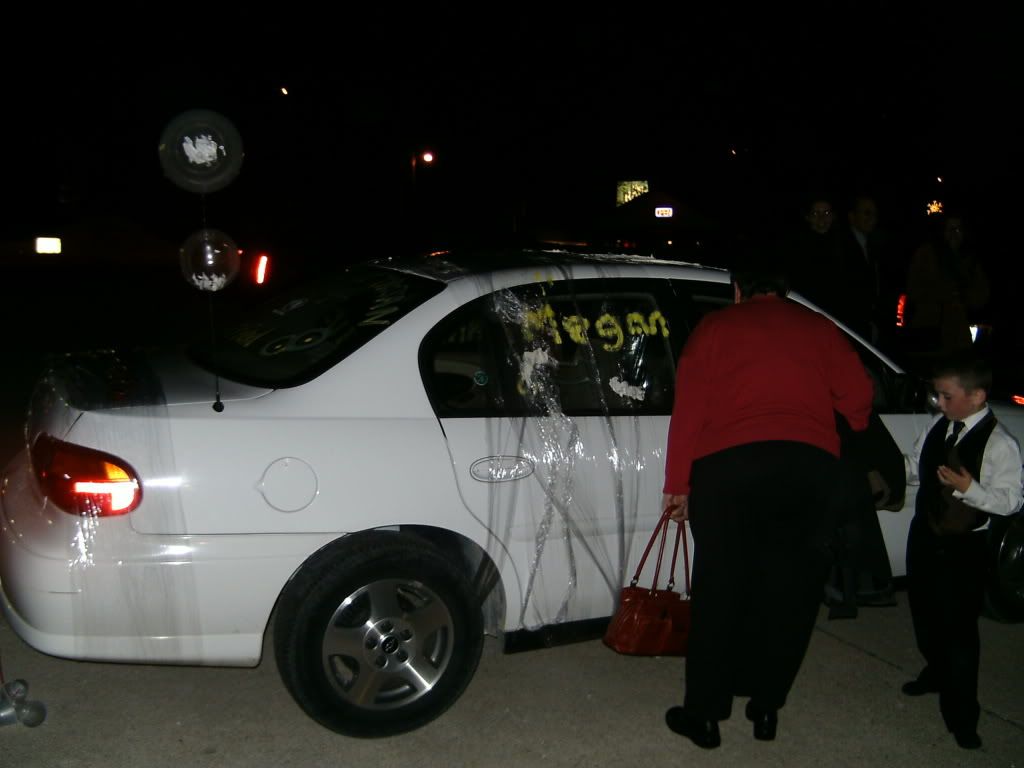 Jay's other proud moment – the saran wrapped steering wheel and luggage. There were a couple of former grooms (including Jay) that had some serious payback for Terry.