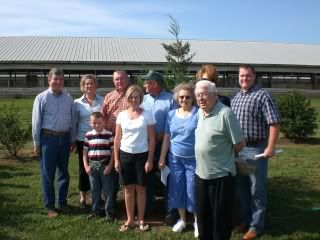 Roy Blunt, one of Missouri's Representatives, visited Jim and Sharon's farm on Monday. Some of you more political savvy ones might remember that he served as Minority Whip a few years ago. He's also running for Senator in 2010. When we visited DC in 2007 we got to see him in the Whip's office in the Capitol. Every year, in August, he has an Ag Tour through the part of Missouri he represents. He goes to different farms and other ag related business. A lot of big names in agriculture are represented on this trip - Farm Bureau, Missouri State Ag Department, FCS (of course!), etc. There are roughly 70 people on the tour. This year Jim and Sharon's farm was selected to be a part of the tour. In 2007 they worked with a government program to plant trees along the sides of the chicken houses to reduce their odor pollution. Jay's FFA students spent a couple of days helping plant and mulch the trees. The tour came to look at the trees and lean about how it is supposed to work.
Of course it was a huge honor for Jim and Sharon. The whole family was able to be there which made it even more special. It was also really neat for Cade. Blunt remembered him from when we were in DC last month. While he was talking he touched Cade on the shoulder and said something about this young man just being in his office in Washington. Cade, who knows no stranger, piped up and said "yeah, we had to get through National Security". Blunt asked him again what he said and then held the microphone down to his face. Jay and I both inwardly cringed. We were frightened of what he might say. We breathed a sigh of relief when all he did was repeat that we had to get through National Security. All 70+ people on the trip laughed at what he said. Jay is really hoping that Cade continues with his ability to speak in front of people because he's got big plans for Cade's FFA future. As Blunt was wrapping up his talk he said that there were 8 people in the family who could answer any questions they might have and 9 if you count Mr. National Security.
After the tour was over and the guests were loading up on the buses and Blunt was trying to get away Cade said he needed to tell Blunt something. I (being a bad mom) told him that Blunt was really busy and needed to leave. He didn't care for my answer. Cade stood by Blunt's vehicle and cornered him before he could get in. He told the Congressmen all about Button's, his bull. Again we cringed because Blunt asked him what kind of bull it was. He's gotten some things confused in his mind and can't remember if Button's is a heifer or a Hereford. Since there is a huge difference between the two he needed to get it right. Cade paused for a minute and then was able to tell him that Button's was a Hereford (whew!). I tried to rescue Blunt at that point so he could get away. I guess Cade told Sharon that he was upset with me because he wanted to tell Blunt what field Button's was in but I wouldn't let him. Oh, the unfairness that a mother experiences!
We were telling Cade that we were pretty sure that no other kid in his class got to see Roy Blunt two times over the summer (not that any of them would care). So when his teacher asks him what he did he better say something about his trip to Washington or seeing Roy Blunt in his office and at his Memo and Papa Jim's farm....not the time Jay took him to Bass Pro during his tonsillectomy recovery.
I promise that I will get pictures and the story about how Button's came to be posted as soon as I can.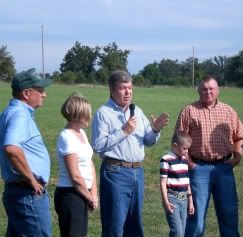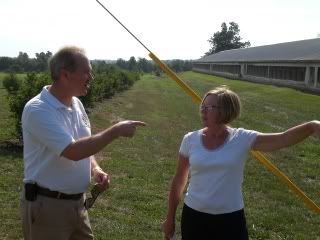 I love this picture. This is our State Representative who ran for office a few years ago. Sharon got aggravated at him because he was campaigning at a function at their church so she told him about it. I love it because it looks like she's really giving it to him, even though I know that she's only answering a question for him...probably about the poultry houses.